Q1 Market Commentary
April 11, 2023
The first quarter of 2023 both started and ended positive for global stocks, but there was some "excitement" along the way.  On March 8th, cryptocurrency bank Silvergate Capital announced it would wind down and liquidate its assets.  At the same time, Silicon Valley Bank experienced financing difficulties.  As a result, depositors became nervous and began making withdrawals, forcing the Federal Deposit Insurance Corporation (FDIC) to take control of the bank.  A few days later, the FDIC announced they were also taking over Signature Bank, following a run on that bank's deposits.  U.S. Treasury Secretary Janet Yellen initiated a $30 billion infusion from 11 large banks to shore up First Republic Bank.  Then, even some foreign domiciled banks ran into some trouble and Credit Suisse purchased UBS in an emergency rescue, forcing the Swiss government's hand to pledge to provide more than $100 billion in liquidity to backstop potential losses.  It seems like the Federal Reserve's response to insure bank deposits were productive, with no other issues arising at this time.  Many people are confused about FDIC insurance coverage – which is $250,000 per depositor, per insured bank, for each account ownership category.
Professional investors watched anxiously for the good news in all of this, hopeful that the Federal Reserve might not increase interest rates.  The consumer price index gained 6% year over year in February, which was a decrease from its peak, but still much higher than the 2% target.  The Fed decided to increase rates by ¼ percent with the hope to slow the economy just enough so that it won't face a recession.  The stock and bond markets responded pretty well to this news, and finished the quarter mostly positive.
For the quarter, large U.S. companies represented by the S&P 500 Index gained 7.5%.  Small companies represented by the Russell 2000 gained 2.7%.  International stocks represented by the iShares MSCI EAFE Index gained 8.5%.  The Bloomberg US Gov/Credit 1-5 Year Bond Index was up 1.8% for the quarter.
Thank you for trusting Petersen Hastings to help you reach and sustain your financial goals.
Petersen Hastings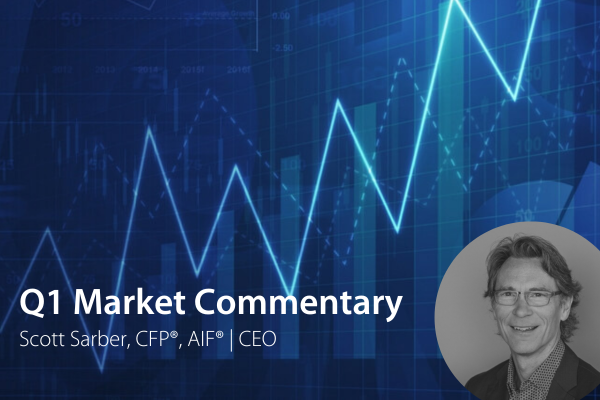 Author:
Scott Sarber, CEO | Sr. Wealth Advisor